Massage Therapy

Sports Massage
Sports massage isn't just for athletes and sports people. By manipulating the body's soft tissue, it can help improve and correct imbalances associated with repetitive movements and postures. So, whether you have general aches and pains from daily living and working, or a specific sports related injury, sports massage could be just what you are looking for.
Treatments begin with a discussion on the reason for the visit, a postural assessment and range of motion tests. These are then followed up with deep tissue massage, using a range of soft tissue release techniques, and stretches. Appropriate after care is given at the end of the treatment. Regular deep tissue maintenance massages are also available, as are pre and post event massages. Initial consultations usually take between an hour and an hour and 15 mins.
Prices: Hour: £45, 45 minutes: £35, 30 mins: £25.
Please wear shorts (and sports bra) for the postural assessment.
Maintenance Massage
If you've already had your initial consultation to determine the areas needing attention, regular maintenance massages enable you to keep on top of any ongoing aches and pains.
Sometimes, due to sports, work or lifestyle, issues are ongoing.  A maintenance massage allows us to continue to focus on these whilst also offering you the benefit of some time out of your busy schedule.  We will use the same techniques as sports massage and can address any changes as and when necessary.
Prices: Hour: £45, 45 minutes: £35, 30 mins: £25.
Deep Tissue Massage
You may not have any specific injuries and instead, just require an all-round deep tissue massage.
We can focus on the full-body or just the back, it's up to you.
Prices: Hour: £45, 45 minutes: £35, 30 mins: £25.
Pre and Post Event Massage
Body Equilibrium is available to attend events and offer pre and post event massage.
Pre-event massage is designed to prepare the body for sporting activity. These massages are usually short and take around 10-15 minutes.
Post-event massage is a more gentle form of massage and enables tired and aching muscles to relax after undertaking sporting activities.  These massages usually take between 15-30 minutes.
To enquire about booking Body Equilibrium for your sporting event, please get in contact so we can discuss your requirements.
Prices: To be discussed on booking
K Taping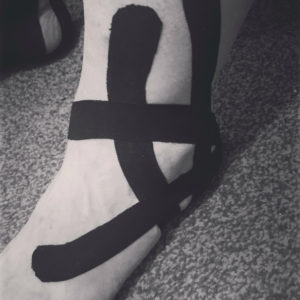 Kinesiology Tape (K Tape) is a stretchy, fabric tape with an adhesive on one side, which can be used to rehabilitate ligaments, tendons, joints and muscles.
It is claimed that K Tape can:
* reduce pain
* reduce swelling
* reduce bruising
* offer support to muscles, joints, tendons and ligaments
*have a positive effect on blood flow, fascia and the lymphatic system
Prices: Stand-alone K Tape appointments are 30 minutes and cost £20. You can also include K Taping as part of your sports massage session, with prices dependant upon the area to be taped.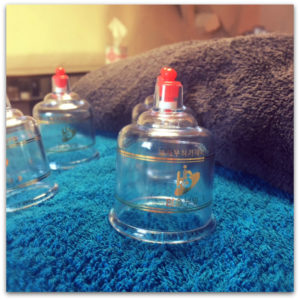 Myofascial cupping targets the musculo-skeletal system, using plastic cups and a hand operated pump to create a vacuum suction.
Benefits include:
* increased blood flow to the treated area
* increased fluid movement in the area
* passive stretching of the myofascial tissue, which helps increase range of motion (ROM) in the area
* de-activation of myofascial trigger points
* relaxation of the treated area
Myofascial cupping is offered as part of your sports massage treatment.